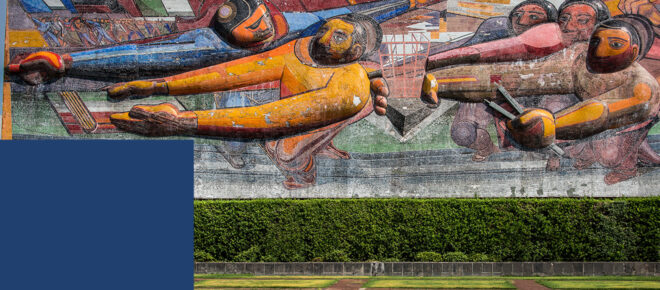 Today, humanists are being called to engage with communities beyond academia, to better think through the conditions of social and cultural inequity that concern them, and to activate their work in an expanded media field. The Humanities in Practice Projects are a space for students and faculty who are imagining and developing experimental modes of engaged scholarship and pedagogy—work that spills out of disciplinary-bound methods, emerges from collective forms of knowledge production, and tackles issues of racial, environmental, gender, ableist, and ethnic justice together with the public. These expansions offer the humanities critical strategies to interpret and question contemporary social and cultural concerns, and they unleash more just and radical forms of scholarly imagination.

Initiatives
---
Often in partnership with institutes and organizations similarly committed to promoting engaged scholarship, the SOF/Heyman offers graduate students funding and resources to implement projects that develop the public dimensions of their scholarly work. Current collaborations include the ZIP Code Memory Project.
During the funding period, students work closely with at least one community organization, participate in methods workshops, and present their projects in the Building Publics series. Recent themes have included Humanities Combating Isolation (2020) and the upcoming Humanities Speak of Race (2021).
Please see below for current and past fellows.
Explorations in the Public Humanities
This initiative promotes conversations about how public and humanistic concerns and voices intersect: it highlights scholarly work in practice, in contexts such as the carceral system, spaces of migrations and dispossession, K-12 education, social justice work, and public health. Past series include Arts, Humanities and the Carceral State, Rethinking Democracy in an Age of Pandemic, Storytelling and Spatial Violence, Care for the Polis (organized in partnership with Health and Medical Humanities), and many other events that showcase expanded and critical modes of practicing the humanities outside of academia.
Building a Curriculum
Our SOF/Heyman-designed Workshops in the Methods and Approaches to the Engaged Humanities familiarize faculty and students with media and methods that may help them expand their academic work into the public humanities; they also facilitate access to academic workshops for non-Columbia communities. For students looking to carve academic and career paths towards civically-engaged, multimedia, public-facing work, our Public Humanities Living Curriculum [coming soon] gathers relevant courses offered across Columbia University and the Inter-University Doctoral Consortium. If you are interested in identifying resources, initiatives, and other institutions fostering Public Humanities projects, please consult our Public Humanities Resources [coming soon].
Fellows
Ayelet Danielle Aldouby
Graduate Student Fellow
Doctor of Education Candidate, Art and Art Education

Project: Voices of Multiplicity (VoM)

Voices of Multiplicity is a residency program for artists who identify as BIPOC and who experience barriers to entry into the art world. VoM is collaborating with the Brooklyn Public Library to design art projects around an understanding of local culture, needs, and knowledge informed by the interests of communities served by their Bookmobile mobile vehicles.
---
Iuri Bauler Pereira and Luise Malmaceda
Graduate Student Fellow
Department of Latin American and Iberian Cultures

Project: Never Again: Dismantling the Monuments of Latin American Dictatorships

Never Again is a public humanities project that aims to map and document anti-monument initiatives that contest the public memory of military dictatorships in Latin America, and connect them with current anti-racist U.S.-based movements engaged with toppling Confederate monuments.
---
Brendane Tynes & Alyssa James
Department of Anthropology

Project: Zora's Daughters Podcast

Zora's Daughters is a society and culture podcast that uses Black feminist anthropology to close read popular culture and model critical participant observation of the world we live in.
---
Meg Jianing Zhang
Graduate Student Fellow
Department of English and Comparative Literature

Project: The Zip Code Memory Project
The Zip Code Memory Project seeks to find community-based ways to memorialize the devastating losses resulting from the Coronavirus pandemic while also acknowledging its radically differential effects on Upper New York City neighborhoods through a series of art-based workshops, public events, social media platforms, and a performance/exhibition at the Cathedral of St John the Divine.
---
Helen Zhao
Graduate Student Fellow
Department of Philosophy

Project: Birthing Publics: Supporting Maternal-Neonatal Health
This project aims to bring together pregnant mothers enrolled in New York City's first guaranteed income program, clinicians at NYP/CUIMC's Mothers Center, maternal-fetal effects scientists, and medical humanities scholars to critically discuss the needs of expecting parents from under-resourced NYC neighborhoods.
David Borgonjon
East Asian Languages and Cultures

David Xu Borgonjon is a Ph.D. candidate in the Department of East Asian Languages and Cultures at Columbia University. His dissertation examines racialization and accumulation in the modern Chinese media of Indonesia. His Public Humanities project, Alternative Chinese School, in collaboration with artist and educator Mel Liu, is a pilot course in Mandarin-language learning for adult heritage speakers with a curricular emphasis on social justice.

---
Paola Cossermelli Messina
Ethnomusicology

Paola Cossermelli Messina is a PhD candidate in Ethnomusicology at Columbia University in the early stages of her dissertation exploring music and diaspora in and between Lebanon and Brazil. She holds a B.A. in Music and Writing from Sarah Lawrence College and an M.A. in Media Studies from The New School, with a specialization in sound. Her Master's thesis on the oral histories of Iranian women musicians was awarded a Middle East Studies Association's Graduate Student Paper Prize in 2016. Her most recent thesis and project, an experimental ethnography on a jukebox in a lesbian bar, was presented at Harvard's 2021 Graduate Music Forum.
A sound designer and audio engineer by trade, she has worked in film and podcasts, and for the past 5 years has produced and edited the Arab Studies Institute's podcast الوضع. She teaches audio workshops at Sarah Lawrence College and, prior to pursuing her PhD, was the Project Manager for CUNY-Creative Arts Team's program Sound Thinking NYC, a free summer intensive for NYC high schoolers interested in careers in music production and audio engineering.
She has been a Mason Endowed Fellow (2020-21), and was awarded the 2021-22 Public Humanities Radio Play Fellowship by the Society of Fellows and Heyman Center for the Humanities and the Center for Palestine Studies at Columbia University. As a Radio Play fellow, she contributes her audio engineering and sound design experience to the No Place / La Makan project, a platform for Palestinian playwrights.

---
Andrei Guadarrama
History

Andrei Guadarrama is a P.h.D. candidate in History at Columbia University. His research focuses on the political economy of urban infrastructure and the reproduction of inequality in modern cities. Andrei is interested in public humanities projects that address mobilities and housing justice.

His project, Mobilities and the City, will be an exhibition at the Museum of Mexico City. It will show the ways in which modern transportation has shaped urban space and daily lives. It will showcase, moreover, how Mexico City's residents experience mobilities. Transportation is quickly reorganizing around discussions on inequality, congestion, health, and climate change. Then it is crucial to ruminate about the history of tramways and bicycles, buses and automobiles, subway, light trains, and horses in the twentieth century to spark discussions about the future. Questions that will drive the exhibition include: How did we build a city characterized by both automobile-dependency and the availability of several forms of transportation? How have transport accidents and violence influenced the ways we use public space? How could we recast transportation to address urban inequality and environmental challenges? What have been people's responses and solutions to problems associated with daily mobilities?
Mobilities and the City will receive support from the Historical Archive of Mexico City, the National Archive, the Museum/Archive of Photography, and other public archives in Mexico City.
---
Bing Quek
Philosophy and Education

Bing Quek is a Ph.D. candidate in Philosophy and Education at Teachers College. Her research interests include ethics, feminist theory, issues of care and social reproduction, teacher well-being, and education policy. For her dissertation, she analyzes the caring experiences of U.S. public school teachers through an ethics of care so as to argue for wider and collective responsibility towards attending to the needs of teachers. Before TC, she was a high school teacher and facilitated professional development workshops for educators and school leaders in Singapore. She holds a BA in Biochemistry from Cambridge University.
As a Public Humanities fellow, Bing is undertaking a philosophically informed empirical project that partners Arts & Minds–a not-for-profit organization that brings persons with Alzheimer's disease and related dementias (ADRD) and their caregivers into museum spaces. Using ethnographic research methods and a framework anchored in the theories of care ethics and aesthetics, her project seeks to elucidate the moral and aesthetic significance of art-based experiences in promoting the flourishing of caregiving relationships.
---
Bridget Bartolini
Oral History

A student in Columbia University's Oral History Masters program, Bridget Bartolini is an oral historian and socially engaged artist who uses story-sharing to strengthen community connections. Inspired by her love for New York City, her belief in the power of storytelling as a tool for social justice, and her frustration with the lack of cultural programming in areas like her home neighborhood in Queens, Bridget launched the Five Boro Story Project in 2013 to produce storytelling events that bring New Yorkers together through sharing true stories and art inspired by our neighborhoods. Her creative process involves working with community members, organizers, activists, and artists to collaboratively create tributes to the people and places that make up our homes.

With her project, titled 34th Avenue Oral History, Bridget is diving deeper into storytelling and oral history work that builds community on the neighborhood level. The 34th Avenue Open Street closes to vehicular traffic each morning, allowing local residents to jog, stroll, ride bikes, and socialize while maintaining physical distance, without fear of cars. The Open Street is also the site of a battle over the future of urban streets. 34th Avenue Oral History is documenting the story of this remarkable street as it unfolds, through the stories of community members who have reshaped their lives around the Open Street. The project website holds multimodal portraits that combine written word, audio, and photography to tell the story of 34th Avenue, the story of the COVID-19 pandemic, and the story of a neighborhood. Bridget is also organizing free public events on 34th Avenue that facilitate dialogue, strengthen community, and engage the public with the archive.

Bridget's local/community partners in this project are Queens Memory, 34th Avenue Open Streets Coalition, and photographer Patrick Chang.
---
Linda Aristondo
Union Theological Seminary

Linda Aristondo is a 2nd year Masters of Divinity student at Union Theological Seminary at Columbia. She is a fiercely proud Latina New Yorker and Harvard-educated attorney involved in restorative legal work. Her contribution to the Zip Code Memory Project uplifts justice for the brown and black bodies that perished due to systemic racism. Linda believes that the deceased should be publicly and appropriately acknowledged with nuanced complexity, sensitivity, and kindness, attentive to the individuals' memories.

Currently, Linda holds two fellowships that demonstrate her engagement work in public forums. The Pandemic and Religion In the Digital Place Fellowship is a multimedia project on religion during the COVID-19 pandemic used to curate a diversity of media-rich spaces. The Virus, Violence, and Narrative Fellowship captures marginalized persons' narratives and their response to the injustices experienced through COVID-19 and expressed through Harlem's Black Lives Matter movement. The video and photographic project will be displayed publicly in local worship houses, community centers, and university forums at Columbia and Union Theological Seminary, among other spaces.
---
Mia Florin-Sefton
English and Comparative Literature

Mia Florin-Sefton is a PhD candidate and University Writing instructor at Columbia University, where she works on 20th and 21st literatures and culture, with a particular interest in social reproduction theory and feminist science studies. Her dissertation examines how narratives of genealogical succession offer opportunities for examining and historicizing the relationships between legal, economic and scientific accounts of inheritance, hereditary and property.
Mia's writing has appeared or is forthcoming in Literature and Medicine and Modernism/Modernity Print +, and she is a regular writer for the medical humanities journal Synapsis. Mia is proud to be working on the Zip Code Memory project during the 2021-22 academic year.
Margaret Banks
English and Comparative Literature

Margaret Banks is a PhD student in English and Comparative Literature at Columbia University. She studies coming-of-age narratives of Black girls to explore their transgression and modes of being in an anti-Black world. Prior to doctoral study she taught middle school humanities, and currently teaches high school humanities courses through Columbia's Double Discovery Center. As a teacher, she seeks to connect the world-making strategies she encounters in her literary research to the strategies Black girls already generate and use in their everyday lives. She holds a BA in English from Amherst College and a MA in Education from Stanford Graduate School of Education.
Her public humanities project, the "Unbecoming Me Summer Camp," is a program for Black girls to unravel and (re)imagine constructions of Black girlhood thorough creative practice. Emulating literary characters like Sula and Nel from Toni Morrison's Sula, the campers will use artistic media to explore transgressive girlhood in community with one another.

---
Tehya Boswell
Population and Family Health

Tehya is a recent graduate of Columbia University's Mailman School of Public Health and currently works with the New York State Psychiatric Institute in the Division of Behavioral Health Services and Policy Research. She completed her Master of Public Health degree within the Population and Family Health Department, with a certificate in Population Mental Health. She is most passionate about addressing mental health inequities and promoting holistic wellness in communities of color both domestically and abroad.
In an effort to raise awareness about health inequities, Tehya has developed the "DNA" (Diaspora Named and Archived) program. DNA is a storytelling project that will guide high schoolers as they interview older family members about their social and medical history, eventually developing visual and audio archival material. DNA's primary goal is to facilitate intergenerational communication of familial medical history in Black and Latino/x groups that traditionally lack this valuable information. DNA also aims to promote the archival material on social media platforms to encourage others to engage in similar conversations within their families.
Before attending Columbia University, Tehya worked with a number of non-profit organizations in New York City to address community-level needs and support social entrepreneurship. Tehya graduated cum laude from Kenyon College with a major in Psychology, a minor in Neuroscience, and a focus in public health and research.
---
Julián Sánchez González
Art History and Archaelogy

Julián Sánchez González is a researcher and essayist currently pursuing a PhD in Art History at Columbia University. His research focuses on the relationship between artistic and spiritual practices in the modern and contemporary eras, particularly in Latin America, the Caribbean, and the United States. Previously, Sánchez pursued an MA in Art History at NYU's Institute of Fine Arts, a double BA in History and Political Science at the Universidad de los Andes, and served as Coordinator of the Education Department at the Museos del Banco de la República in Bogotá. His work has been supported by the Fulbright Program, the Ministerio de Cultura de Colombia, and the Fundación Colfuturo. His writing has been published by the Museum of Modern Art (MoMA), the Pérez Art Museum Miami (PAMM), the Colección Patricia Phelps de Cisneros, Oxford Art Online, the Universidad Jorge Tadeo Lozano, the Universidad Tres de Febrero, and Artsy, among others.
As a SOF/Heyman Center Public Humanities Graduate Student Fellow, Julián is looking forward to working on a project that researches and renders visible the underlying, connective threads of selected Amerindian, Neo-pagan, and Afro-Diasporic spiritualities practiced in northern Manhattan. Following Gloria Anzaldúa's widespread usage of the term "Spiritual Activism," this initiative seeks to engage with the material and non-material cultures of these spiritual systems, in order to gain a deeper understanding of their contributions to social and community growth at the local level. In stressing the nature-based and polytheistic cosmogonies of their practitioners, this project aims to foreground the importance of environmental sustainability, gender and sexual parity, and racial justice operating at the root of these traditionally marginalized beliefs. The result from this year-long endeavor will attempt to create a community-based, interspiritual public conversation as an agora for collective healing and learning.

---
Adam Horn
English and Comparative Literature

Adam Horn is developing a prison education project based on Boethius' Consolation of Philosophy, a prison narrative which was the most widely circulated creative work in the European Middle Ages. Inspired by the work of the alternative Brazilian prison system APAC, he hopes to edit a modern Consolation dealing with issues of restorative justice. A former bookseller and current singer/songwriter, Adam studies the intersection of religion and literature in late medieval Europe.
---
Amanda Martin-Hardin
History

Amanda Martin-Hardin is a History Ph.D. student studying how race and racism impact access to the outdoors in the 20th century United States. More specifically, she researches how many U.S. outdoor landscapes became known as predominantly white spaces, as well as how people of color resisted their exclusion from these spaces. For more information on her scholarly work, you can visit Amanda's website.
Her public humanities project, Everyday Environmentalism, is a podcast that tells past and present stories about "urban nature" in New York City. Amanda and her co-hosts interview current activists in tandem with environmental historians to produce a long history of the ways ordinary New Yorkers have experienced the urban outdoors and created more sustainable relationships with their environment.
Everyday Environmentalism interrogates questions like: Who do we consider an environmentalist? Can urban spaces be sites of environmental activism? Is it true that the environmental movement has historically been mostly white and wealthy? Who are the animal inhabitants of New York City? How can we forge more sustainable relationships with the environment in our own neighborhoods and communities?

---
Kevin Windhauser
English and Comparative Literature

Kevin Windhauser is a PhD Candidate in the Department of English and Comparative Literature at Columbia University, writing on the relationship between Renaissance literature and the development of library systems in sixteenth and seventeenth-century England. His research has appeared or is forthcoming in Studies in Philology and Journal of Prison Education and Research. His project, Building Research Libraries in New York Prisons, aims to partner with prison education programs and academic libraries to increase the availability of textbooks, academic reference texts, critical anthologies, and select core texts in historiography, literary criticism, and other humanities disciplines in prisons where humanities courses were being offered. While the number of humanities and arts courses offered in New York prisons has ballooned over the last decade, prison libraries have not kept pace with the needs of a growing number of incarcerated students. Current programs for prison library development have done an admirable job of providing incarcerated individuals with valuable reading material, but they have not focused on developing academic resources. This lack of resources is more than an inconvenience--it threatens to limit the humanities and social science course offerings that prison education can provide. Further, this project engages potential book donors ranging from academic presses to independent bookstores to faculty groups, and thereby expands public awareness of humanities teaching in New York prisons and builds public support. By establishing sustainable academic library resources in New York's prisons, this project hopes to create the infrastructure necessary to support advanced prison teaching for decades to come.
Scot MacFarlane
History

Scot McFarlane is an environmental historian whose work focuses on the relationship between rivers and people. Scot designed and taught his own course, "Rivers, Politics, and Power in the US, in Columbia's history department. His writing has appeared in peer-reviewed journals such as Environmental History, The Journal of Southern History, and Slavery and Abolition in addition to public scholarship in the Washington Post, Texas Monthly, and other outlets.
Confluence: The History of North American Rivers is an environmental humanities project that bridges activism and academic methods of knowledge in order to explore the importance of rivers throughout North America. This platform provides an opportunity for people to learn about and share the history of rivers while considering how to put this knowledge to work through digital storytelling, education outreach, and politics. Several thousand users from across the world engage with the site every year. The project includes a range of public events such as a virtual walk along the Harlem River and a conference on river history and environmental justice called "All Water Has a Memory: Rivers and American History" with a thousand registered guests and a range of speakers from academia and environmental activism.
---
Erin Petrella
Classics

Erin Petrella is a PhD candidate in the Classics department at Columbia University. Her research involves the possibility of semantic value for silent propositions in ancient Greek literature and philosophy, and the development of botanical and scientific Latin from antiquity to the Renaissance. Erin has a prior master's in Rare Books and Manuscripts Librarianship, and a professional background in academic libraries. For several years, she has volunteered with the New York Public Library's Correctional Services program, providing library services to incarcerated individuals in city jails, including MDC and Rikers. Her project will combine all of these experiences into a months-long intensive reading and discussion of a classical text with a group of individuals at Rikers, the outcome of which will hopefully include an alternative "edition" of the text, along with an online exhibition.
---
Alexandra Mendez
Latin American and Iberian Cultures

Alexandra Méndez is a Ph.D. candidate in Latin American and Iberian Cultures (LAIC) and the Institute for Comparative Literature and Society (ICLS) at Columbia University. She received her B.A. from Harvard in the History and Literature of Latin America. Her research focuses on narratives about the New World and their circulation and publication between the Americas, Spain, and Venice in the sixteenth century. She was a 2018-2019 Graduate Fellow with the Mellon Sawyer Seminar in Global Language Justice through ICLS, and her book reviews have appeared in Public Books and the Harvard Review Online.
---
Akua Banful
English and Comparative Literature

Akua Banful is a Ph.D. candidate in English and Comparative Literature at Columbia University. Her dissertation, "The Hostile Tropics: Towards a Postcolonial Discourse of Climate," explores the interaction between imperialism and the representations of tropical nature and life in tropical climates in examples from anglophone, francophone, and lusophone literatures. Her Public Humanities project, "Climate Arts: Reading, Recycling, Making," will create a mixed curriculum of climate-oriented fiction and recycled and otherwise environmentally engaged art that she will work through with public high school students. Through reading and discussing literature, contemplating recycled art, and completing a project of their own, this project aims to give young students a sense of the ways in which the arts can engage with, and respond to our current climate predicament.
---
Meadhbh McHugh
Theatre

Meadhbh McHugh is an Irish playwright and PhD candidate at Columbia University. Her plays include Helen and I (Druid Theatre Company), nominated for the Stewart Parker Award 2016, and the stage adaptation of Louise O'Neill's novel Asking for It for Landmark Productions with the Everyman Theatre and Abbey Theatre, Dublin. Asking for It won the Audience Choice Award at the Irish Times Theatre Awards 2018. Meadhbh's dissertation focuses on trauma and lyricism in contemporary Irish drama, and she has taught university writing for the past three years. As part of the NY Public Humanities Fellowship, Meadhbh will develop playwriting and creative writing workshops with incarcerated students at Rikers Island prison facility, in association with Columbia's Heyman Center and the Justice-in-Education Initiative.
Therese Cox
English and Comparative Literature

Therese Cox will curate a project called "You Are Here: Girls Map New York City". Together with local teaching artists and community partners, young women from New York City's public schools will explore histories of the city, the politics of map-making and zoning, and issues of public space, race, and gender. The project will explore art, storytelling, poetry, and creative cartography as empowering practices, culminating in an exhibition and a reading.
---
Katryn Evinson
Latin American and Iberian Cultures

Katryn Evinson will engage senior citizens in Ithaca, NY to explore new ways of creative coexistence with technology. In the first part of the project, she will invite them to share their stories in order to reshape our narratives about technology and old age. In the second part, in collaboration with a reuse center in Tompkins County, they will develop unusual uses of machinery through broken and obsolete devices, producing artistic pieces that challenge our ideas of instrumentality.
Leah Pires
Art History and Archaeology

Leah Pires' research centers on questions of power, institutions, and critique as they have been engaged by artists since the 1960s, and her dissertation focuses on New York artist Louise Lawler and her collaborators. As a 2017-18 Public Humanities Fellow at the Heyman Center, Leah is continuing her work with the Center for Justice's Justice-in-Education Initiative by developing a workshop that shares exhibitions from New York museums with young women at the Rose M. Singer Center on Rikers Island.
---
Elliott Ross
English and Comparative Literature

Elliot Ross is a doctoral candidate in the Department of English and Comparative Literature at Columbia University. His dissertation examines narratives of the Kenyan War of Independence and its afterlives, and considers questions of historical reparation, anti-colonialism and human rights. His writing has appeared in the Guardian, Al Jazeera, Washington Post, and many other publications. He worked for five years as senior editor of the website Africa is a Country. As a Public Humanities Fellow, Elliot will facilitate a series of podcasts in which New York public high school students interview scholars on a politically meaningful topic of their expertise.
Natacha Nsabimana
Anthropology

Natacha Nsabimana is currently pursuing a Ph.D. in anthropology at Columbia University. Her dissertation is concerned with the everyday aftermath of violence in post-genocide Rwanda. It examines the ways in which the violence of the genocide against Tutsi occupies the spatial memory of Rwanda's landscape and the kinds of individual and national narratives such memory allows and disavows. Her project will engage young women at the Rose M. Singer Center for Women on Rikers Island to produce a literary journal discussing social justice issues such as racism, slavery, incarceration and sexual violence through the prism of art.
---
Sahar Ishtiaque Ullah
English and Comparative Literature

Sahar Ishtiaque Ullah is an academic, artist, and linguist whose work bridges the gap between the ivory tower and community. A Core Lecturer in Literature Humanities at Columbia University, where she earned her Ph.D, Ullah is the recipient of the Presidential Teaching Award, the highest teaching honor at Columbia. Her work has been published in journals and webzines like Baraza, Cambridge Journal of Postcolonial Literary Inquiry, Arabic Literature and Translation, and The Once and Future Classroom. As a Public Humanities fellow, Ullah facilitated storytelling workshops for young women through the Rikers Education Program and has taught literature through the Justice-In-Education Initiative.
Ullah most recently was commissioned by the Park Avenue Armory to create work in response to the centennial of the Nineteenth Amendment. The creator of the critically-acclaimed Hijabi Monologues, a theatre project that has been staged over a decade across the United States and internationally from the Kennedy Center in Washington, D.C. to the Peacock Theatre in Dublin, Theatre Zuidplein in Rotterdam, AtAmerica in Jakarta, and the Bush Theatre in London, Ullah's theatre work has been reviewed by the BBC, The Stage, Exeunt Magazine, The Asian Writer, and British Council Voices. She also consults on diversity, equity, and inclusion for universities and high schools; U.S. Embassies and the British Council; and television and theatre.
Liane Carlson
Religion

Liane Carlson will create a philosophy curriculum for GED students.
---
Nicole Gervasio
English and Comparative Literature

Nicole Gervasio will bring together high school students from diverse backgrounds for reading and writing workshops aimed at bridging divides between them.
People
JM Chris Chang: Post-doctoral Fellow in the Public Humanities and Coordinator of the Humanities in Practice Initiative
Elvira Blanco: Graduate Administrative Fellow
Columbia Partners
---
Community Partners
---